Added by Luke Hickey
DDT held Summer Vacation at Korakuen Hall on Sunday. Headlined by HARASHIMA challenging Shigehiro Irie for the KO-D Openweight Championship.
RENEGADES (Facade, Jason Kincaid, Mizuki Watase & Sammy Guevara) defeat Kazusada Higuchi, Keisuke Ishii & Shuten Doji (Masahiro Takanashi & Yukio Sakaguchi)
Akiko (Akito), Carousel Shun (Shunma Katsumata) & Kyoko Takeshita Jr. (Konosuke Takeshita) defeat Francoise Takagi, Kazuko Hirata & Magaret Owashi
Uchikomi! Openweight Ultimate Title Belt Scramble Tag Team Rumble Match
a) Ken Ohka and Gota Ihashi defeat Alex Ace & Antonio Honda and Danshoku Dino & Makoto Oishi and KUDO & Saki Akai and Nobuhiro Shimatani & Soma Takao and Kouki Iwasaki & Rekka and Super Sasadango Machine & Yuki Ino
b) Ken Ohka defeats Gota Ihashi – becomes 1st champion.
BIG LOVE! Special Singles
Daisuke Sasaki defeats ASUKA
KO-D Tag Team Title Match
MAO & Mike Bailey defeat DAMNATION (Mad Paulie & Tetsuya Endo) – DAMNATION fail in 1st defence. MAO & Mike Bailey are the new, 65th KO-D Tag Team Champions.
KO-D Openweight Title Match
Shigehiro Irie defeats HARASHIMA – Irie retains, V3 in this reign.
—–
Sammy Guevara cashes in Anytime, Right to Challenge
KO-D Openweight Title Match
Shigehiro Irie defeats Sammy Guevara – Irie retains, V4 in this reign.
Upcoming appearances for outside talent were announced:
Shuji Ishikawa and Kohei Sato to compete on the July 30th show at the Shinjuku FACE.
Tatsumi Fujinami and the Brahman Brothers will compete on the August 26th show at the Korakuen Hall.
Meiko Satomura will compete on August 28th at the Shinkiba 1stRING. Also on the the card for tomorrow's Maji Manji.
Sabu was announced to compete for DDT on September 23rd at the Korakuen Hall.
Andre the Giant Panda was announced for the October 6th show in Nemuro City, Hokkaido.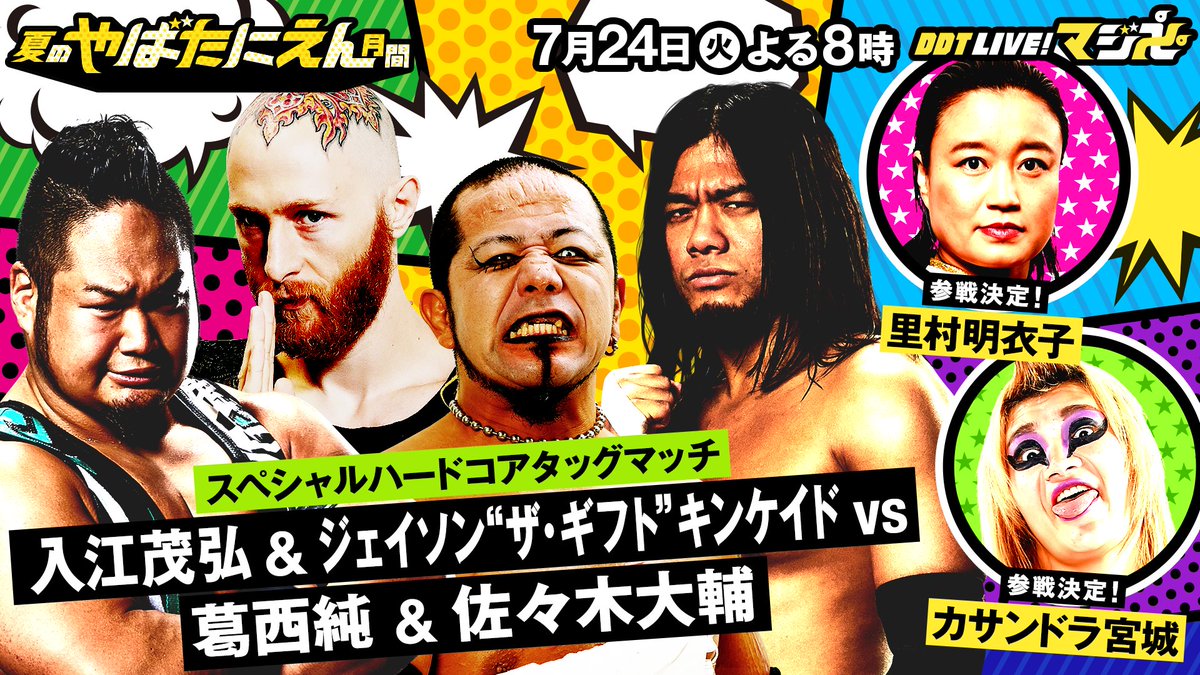 Jun Kasai will be teaming with Daisuke Sasaki tomorrow at Maji Manji.
All 32 wrestlers were announced for the KING OF DDT 2018. Akito, Alex Ace, Antonio Honda, Yuki Iino, Keisuke Ishii, Gota Ihashi, Kouki Iwasaki, Yuki Ueno, Tetsuya Endo, Toru Owashi, Shunma Katsumata, KUDO, Gorgeous Matsuno, Yukio Sakaguchi, Daisuke Sasaki, Jason "The Gift" Kincaid, Nobuhiro Shimatani, Daiki Shimomura, Soma Takao, Sanshiro Takagi, Masahiro Takanashi, Konosuke Takeshita, Tanomusaku Toba, MAO, Hoshitango, Mike Bailey, Mad Paulie, Tomomitsu Matsunaga, HARASHIMA, Kazusada Higuchi, Naomi Yoshimura & Mizuki Watase.
Luke Hickey
@PuroReviews