Added by Luke Hickey
I asked Irish wrestler and Phoenix Wrestling promoter, Marion Armstrong a few questions as Phoenix gets nearer to their one year anniversary. Marion is a one time CCW Tag Team Champion and has been a part of the local scene for a number of years, has wrestled with CCW, Over The Top Wrestling and Fight Factory throughout the years. He founded Phoenix Wrestling last year and the promotion hosts some of the best up and coming talent in the country!
Has there been much of a learning curve since founding Phoenix last year in regards to business management and marketing? What has been the most challenging aspect that you have faced since?
The learning curve has been incredible. I thought I knew a lot about Wrestling , but the amount I've learned in the last 10 months is more than what I've learned in the first 30 years of my life.
Marketing to me is fun, I love trying to find new ways that people can find the company, or new ways that fans can interact with us. So yes, I've learned a lot, but it doesn't feel like work.
What are the goals of Phoenix, I notice a lot of homegrown talent over imports for example? How did you choose the name?
The name to us was kind of symbolic. A lot of people involved in the Cork scene were thinking of quitting, they were burnt out mentally, so we saw Phoenix as a metaphor for us as a group picking ourselves up and bursting through the glass ceiling of Cork wrestling.
As we head towards our 1 year anniversary, we are focusing massively in homegrown talent.
Homegrown in many ways.
We've got Irish homegrown talent, who are stars in their own right, your LJ Clearys, your Michael Mays.
We've got homegrown in a cork sense, we've got Billy Bedlam, Raven Creed and Matt Skyler. And a few great guys in the training academy who are close to being ready for shows
We've got homegrown in a Phoenix sense too, what we want to do is take guy in Ireland that are maybe not getting as much attention as they deserve and getting eyes on them. People like Owen Richards, Andy Steel, even Alexander Dean.
I think Dean is one of Ireland's best homegrown talents in the ring, and I think it's mad that he's not wrestling everywhere.
The Empress tournament is currently ongoing to crown a womens champion. Was it your intention from the beginning to crown a women's champion first? Are there more championships planned?
It wasn't ever our intention, it just suited where the storyline was going.
We always intended to end our anniversary show with a champion. It just happened that the women in Phoenix are killing it, and the storyline rolled right to the Empress tournament.
Yes, more championships are being planned soon, stay tuned to find out more.
You also do gym shows/family friendly shows under a different branding, how soon into your planning for Phoenix did you know you were going to do these shows?
Instantly. Our aim with Phoenix is to make a sustainable Wrestling eco system here in Cork. In order to do that, these shows are a must.
It's the only way to get trainees the experience they need to be ready for shows.
Final words – hype upcoming events/matches etc
On June 15 we have an insane show coming to the home of Cork Wrestling, The Kino.
And on July 27th we have our 1 year anniversary show, in which we will crown our Empress Champion.
Not to be missed
Follow Phoenix on Twitter @PHOENIXwrasslin 
—————————————————————————–
Next Show: Billy Bedlam's Birthday Bash, June 15th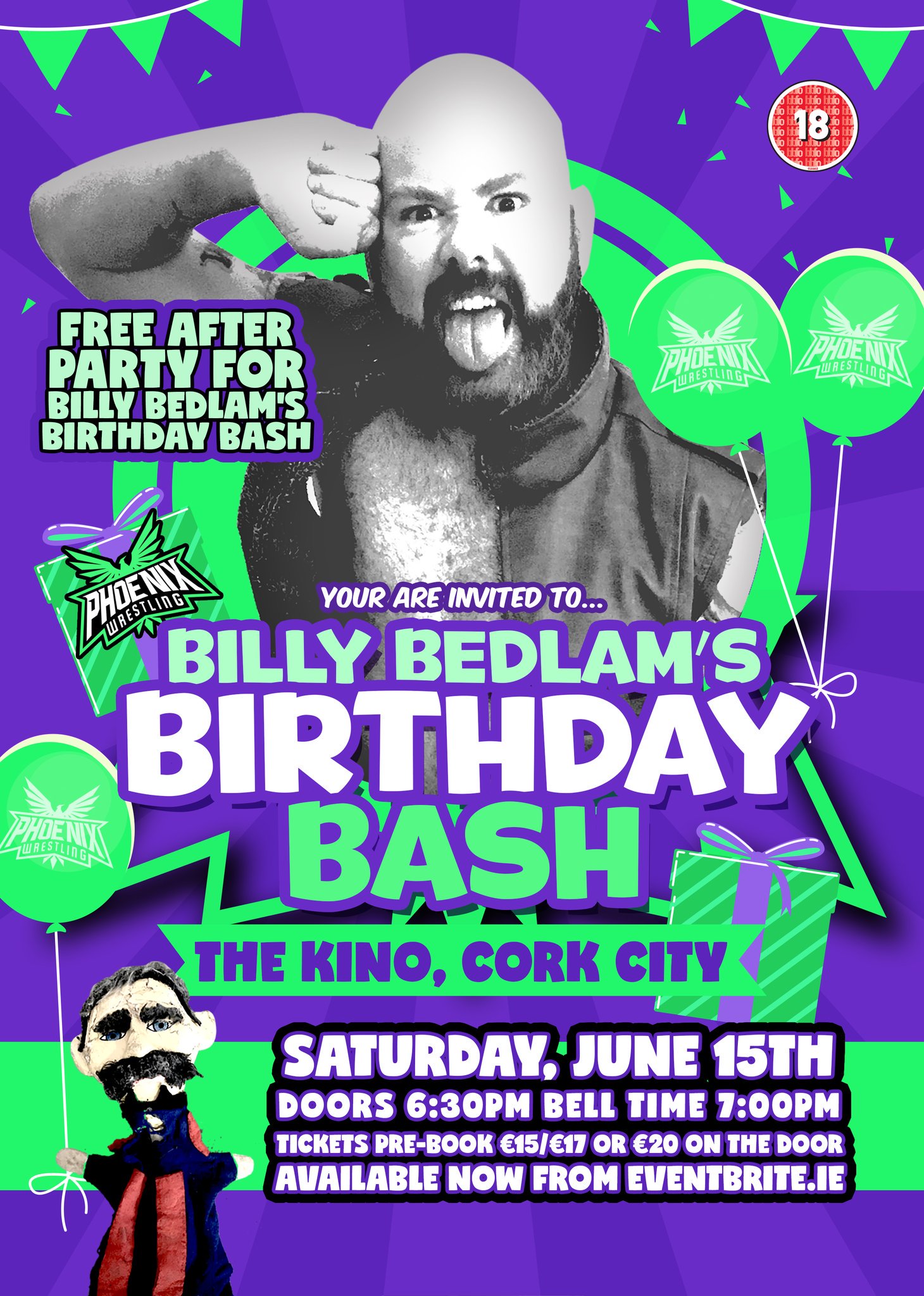 Luke Hickey
@PuroReviews