Added by Luke Hickey
All Japan Pro Wrestling: The Junior Battle of Glory has been ongoing during the Excite tour throughout this month, the standings as of the 16th are:
Block A:
1. Koji Iwamoto [6]
-. Kotaro Suzuki [6]
-. TAJIRI [6]
4. Akira Francesco [2]
-. Atsushi Maruyama [2]
-. Yusuke Okada [2]
Block B:
1. Seiki Yoshioka [6]
-. Atsushi Aoki [6]
3. Hikaru Sato [4]
4. Chikara [4]
5. Black Menso~re [2]
-. Black Tiger VII [2]
Big Japan Pro Wrestling: Ikkitousen ~ Death Match Survivor ~ The competition this year will be focused on Death BJ, as Strong BJ was the focus this year. Current BJW Death Match Heavyweight Champion, Masaya Takahashi will not be taking part. The tournament starts on the 28th of the month, the blocks are as follows:
Block A:
Abdullah Kobayashi
Ryuji Ito
Jimmy Havoc
Isami Kodaka
Yuko Miyamoto
Ryuichi Sekine
Yoshihisa Uto
Block B:
Takayuki Ueki
Rickey Shane Page
Minoru Fujita
Masashi Takeda
Takumi Tsukamoto
Kankuro Hoshino
Toshiyuki Sakuda
If you've never seen Death Match Survivor, and you are perhaps curious, here is a taster.
Dramatic Dream Team: Judgement 2019 is currently taking place, hopefully the VOD will be up soon but the card looks great and should be worth a watch.
0. BASARA Offer Match: Ryuichi Sekine & Daiki Shimomura vs. Takato Nakano & Masato Kamino
0. Tokyo Joshi Pro Offer Match: Yuna Manase, Nodoka Tenma & Yuki Aino vs. Natsumi Maki, Hikari Noa & Miu Watanabe
1. Shunma Katsumata Return Match: Shunma Katsumata, Yuki Ueno & Space Monkey vs. Antonio Honda, Jason "The Gift" Kincaid & Naomi Yoshimura
2. Special Singles Match: Akito vs. T-Hawk
3. Taiho Koki's Grandson Yukio Naya Ryogoku Kokugikan First Participation!: Go Shiozaki NOAH, Kazusada Higuchi & Yukio Naya vs. Daisuke Sekimoto BJW, Toru Owashi & Yuki Ino
4. Danshoku Dino Produce Yuru Character "Pokotan" Debut Match: Danshoku Dino, KUDO & Pokotan vs. Keisuke Ishii, Kota Umeda & Mizuki Watase
5. Special Hardcore Six Person Tag Match: Sanshiro Takagi, Ryuji Ito BJW & Chigusa Nagayo Marvelous vs. Soma Takao, Mad Paulie & Takumi Iroha Marvelous
6. Dramatic Dream Match: Tetsuya Endo vs. Naomichi Marufuji NOAH
7. Iron Man Heavy Metal Title, Time Difference Battle Royal: Asuka (c) vs. Super Sasadango Machine vs. Makoto Oishi vs. Keisuke Okuda vs. Saki Akai vs. Kazuki Hirata vs. Gorgeous Matsuno vs. Hoshitango vs. Gota Ihashi vs. Yuni vs. Yasu Urano vs. El Lindaman vs. Scorpio X2 vs. Yuka Sakazaki vs. Mina Shirakawa vs. Chinsuke Nakamura vs. Maku Donaruto
8. KO-D Tag Team Title, 3 Way Match: Mike Bailey & MAO (c) vs. Yukio Sakaguchi & Masahiro Takanashi vs. CIMA & Seiki Yoshioka WRESTLE-1
9. DDT Extreme Title, Pride of Each Other Rules Rule: Shinya Aoki (c) vs. HARASHIMA
10. KO-D Openweight Title: Daisuke Sasaki (c) vs. Konosuke Takeshita
Pro Wrestling NOAH: Two title matches have been set for the first Great Voyage of the year in Yokohama, GHC Jr. Heavyweight Title: Daisuke Harada (c) vs. Minoru Tanaka and GHC Heavyweight Title: Kaito Kiyomiya (c) vs. Naomichi Marufuji. I think Atsushi Kotoge and Eddie Edwards may have been scheduled to face new GHC Tag Team Champions, 50 Funky Power's but Kotoge has since been ruled out to injury, suffering a dislocation of the elbow during the Manto Splash.
Tokyo Joshi Pro Wrestling: The card for the 23.02 at Shinjuku Face for ~BE UPDATED TO THE FUTURE, THE FUTURE, THE FUTURE~ has been set and features two title defences, TOKYO Princess Tag Team Titles: Yuka Sakazaki & Mizuki (c) Vs Reika Saiki & Marika Kobashi and TOKYO Princess Of Princess Title: Miyu Yamashita (c) Vs Nodoka Tenma.
Wrestle-1: Crusier Fes 2019 has been ongoing during the current tour, W-IMPACT.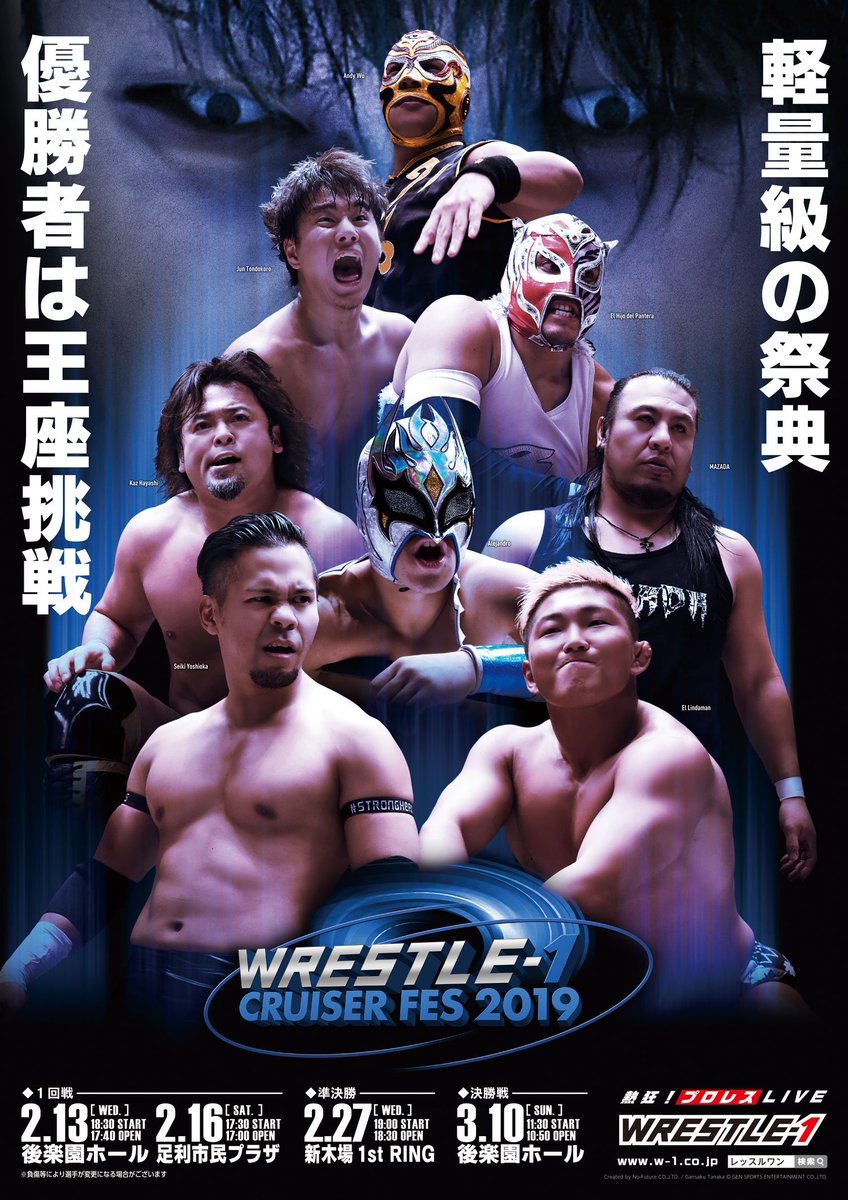 13.02
WRESTLE-1 CRUISER FES 2019 – Round 1: Seiki Yoshioka defeats Andy Wu
WRESTLE-1 CRUISER FES 2019 – Round 1: El Lindaman defeats Kaz Hayashi
16.02
WRESTLE-1 CRUISER FES 2019 – Round 1: El Hijo del Pantera defeats MAZADA
WRESTLE-1 CRUISER FES 2019 – Round 1: Jun Tondokoro defeats Alejandro
The Ota Ward show on the 21.03 will called ~Wrestle Wars~, two matches have been announced, former Champion Shotaro Ashino will be facing Daisuke Sekimoto of Big Japan, current W-1 Champion T-Hawk's first defence will be against Ikemen. Also recently announced was Reika Saiki, notably wrestles for TJPW has signed a deal with the company, I imagine she'll continue working for the Joshi promotion as Hana does for Stardom.
World Wonder Ring Stardom: X has been revealed as Andras Miyagi, known as Cassandra Miyagi in her former home promotion Sendai Girl's, who she recently resigned from. She has joined Oedo Tai.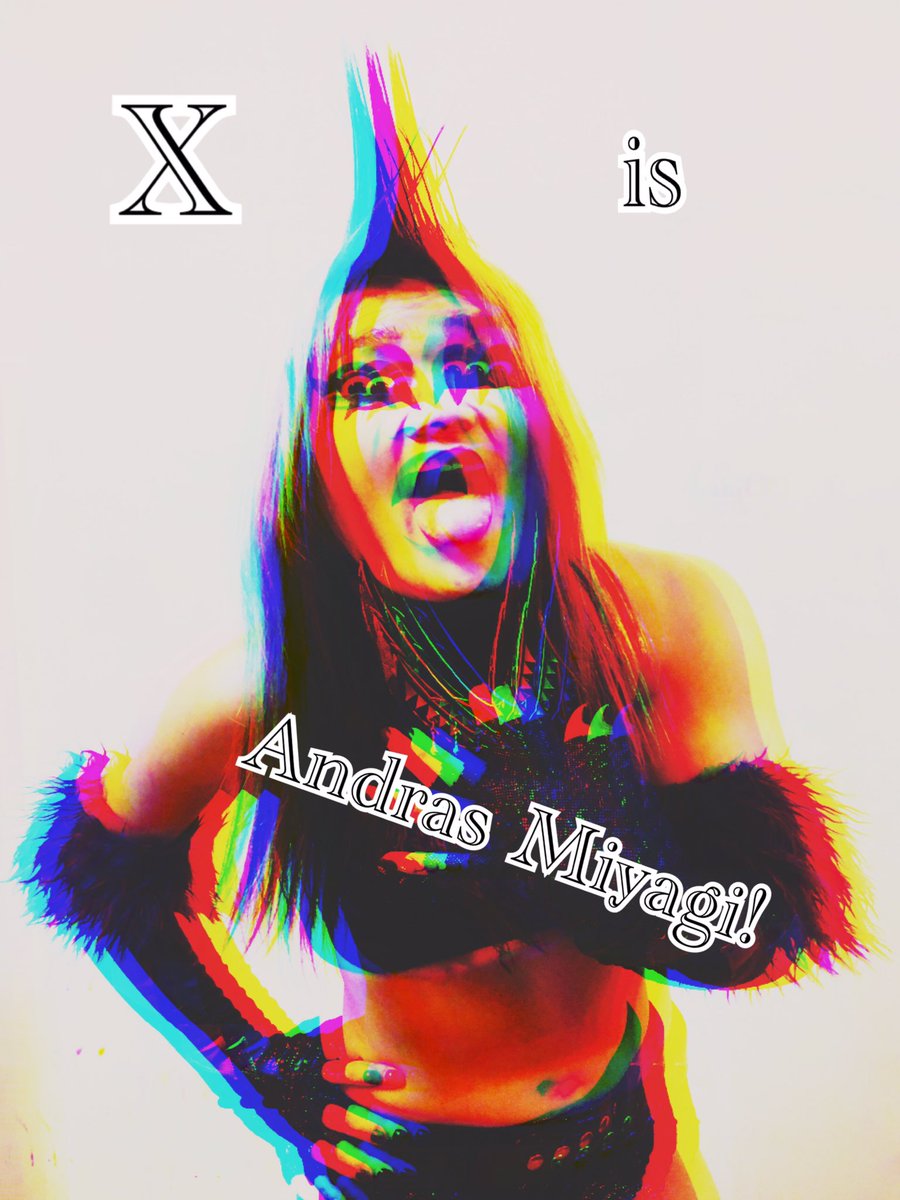 Today's show ~ Stardom Queen's Fes 2019 ~ took place in Korakuen Hall, news coming out of the show is Konami has challenged Mayu Iwatani for the WOH Championship which she recently won in America. Results from today's show are:
Starlight Kid & Hanan defeat Leo Onozaki & Saya Iida and Rina & Hina
Hana Kimura & Bobbi Tyler defeat Saki Kashima & Alex Gracia
Konami defeats Jamie Hayter
High Speed ​​Title: Hazuki (c) defeats AZM
Kagetsu & Andras Miyagi defeat Jungle Kyona & Natsuko Tora
Goddesses of Stardom Title: Momo Watanabe & Utami Hayashishita (c) defeat Mayu Iwatani & Arisa Hoshiki
———————————————————
Results/news compiled via official websites and twitters, unofficial english accounts, resources like Hisame, PuroLove, Dramatic DDT and Cagematch.
Luke Hickey
@PuroReviews