Added by Luke Hickey
Sorry, but I'm going to talk a little Pro Wrestling NOAH. Again. And while this current reign as GHC Heavyweight Champion is nowhere near eclipsing his first reign that lasted a staggering 581 days, this 4th reign as it hits 175 days, as of writing, it coincides with the story arc that is going on in NOAH at the moment, the Super New Generation Army of Go Shiozaki, Katsuhiko Nakajima, Kenoh, Masa Kitamiya, Kaito Kiyomiya and Atsushi Kotoge against the Veteran Army of Takashi Sugiura, Naomichi Marufuji, Akitoshi Saito, Muhammad Yone, Quiet Storm and with support from Masato Tanaka. These two sides have been at each other since May around the time of Navigation with Emerald Spirits while the seeds of this rivalry were sown long before.
Kenoh, who had promised to take NOAH back to the Budokan, was defeated by former tag team partner, Takashi Sugiura, for the GHC Heavyweight Championship back at Great Voyage in Yokohama in March. His first defence was against the revolutionary Atsushi Kotoge at Great Voyage in Niigata in April. While no generational war was in effect at the time, both were left bloodied from the encounter.
His second defence was against none other than Naomichi Marufuji, with no war of generations yet, the seeds of it were planted, Marufuji and Sugiura agreed to team up after, perhaps go after GHC Heavyweight Tag Team Champions, THE AGGRESSION, Katsuhiko Nakajima & Masa Kitamiya had won back the belts on the same card. But first, Marufuji and Sugiura had some issues of their own to work out. Last time they met, Sugiura had defected to Suzuki-gun, the only Noah-born to do so. This time Sugiura wanted to win clean, without chairs and outside interference. He submitted Marufuji in the end, on day 10 of Navigation with Breeze, afterwards they began to team with Akitoshi Saito.
Following his victory over Naomichi Marufuji, and the formation of who is on what side of this generational war in NOAH, the rest of Sugiura's challengers for the GHC Heavyweight Championship have come from the Super New Generation Army. At Mitsuharu Misawa's Memorial Show, Navigation with Emerald Spirits on the 10/06, Kenoh defeated Kaito Kiyomiya for #1 contendership, while Go Shiozaki & Katsuhiko Nakajima drew first blood by defeating Sugiura & Marufuji.
On the 26th of the same month, on day 8 of Navigation with Emerald Spirits, Kenoh got his chance to reclaim the GHC title from former partner, now rival, Sugiura, his efforts would be futile as Sugiura retained in a fantastic match at the Korakuen Hall while Akitoshi Saito, Naomichi Marufuji & Masato Tanaka would defeat the GHC Tag Champions, Nakajima & Kitamiya, & Go Shiozaki. Go Shiozaki though, who had previously pinned Sugiura in a tag match, picked up the challenge after Kenoh had lost, they would go on to meet in Kawasaki.
On 18/08, Go Shiozaki would prove a worthwhile adversary for Sugiura, previously though, Marufuji & Saito would bring the tag titles to the Veteran Army, providing bemusement for those in the Super New Generation that the old folks held all the heavyweight gold in NOAH. Also in Kawasaki there was a great 5 v 5 elimination match that the Super New Generation Army won, providing a much needed boost and hopefully spark Shiozaki to win the GHC Heavyweight Championship. Shiozaki looked to have came the closest out of the previous challengers, he gave it his all, but the Killing Machine won after a great battle, probably one of the best matches of the year but it was another successful defence and another loss in a big match for the youngsters. Masa Kitamiya was next to challenge, Sugiura, a fighting champion of course accepted but had a look of 'when will these annoying kids leave me be'.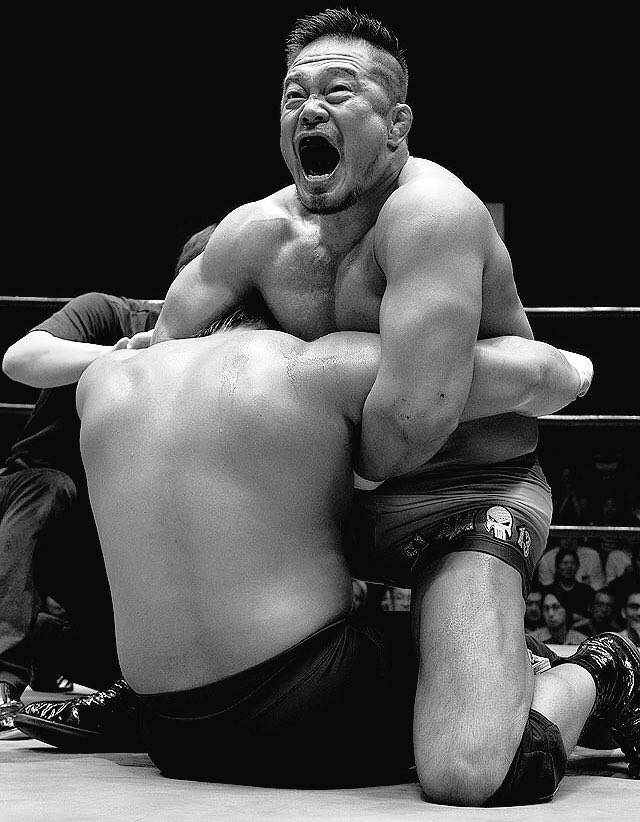 In terms of storytelling, matches and rivalry, this is my favourite championship reign of 2018 in any promotion. And while I have not seen it, Masa Kitamiya got his match today and once again Sugiura won. His next challenger is Katsuhiko Nakajima. Long may this rivalry continue, let it take NOAH back to where it should be, the Nippon Budokan!
This Week In Puro;
~ TAKAYAMANIA was held on the 31st, 1,500 people attended the Korakuen to see it. Wrestlers from various promotions in Japan took part, NOAH, DDT, and All Japan as well as Joshi competitors.
~ Kotaro Suzuki has been added to NOAH's Global Junior League. He appeared at 'Flight' for Marufuji's 20th Anniversary. KENTA returned as well in a losing effort to long time rival, Marufuji. Jun Akiyama of AJPW appeared.
~Standings for STARDOMS 5* Grand Prix are: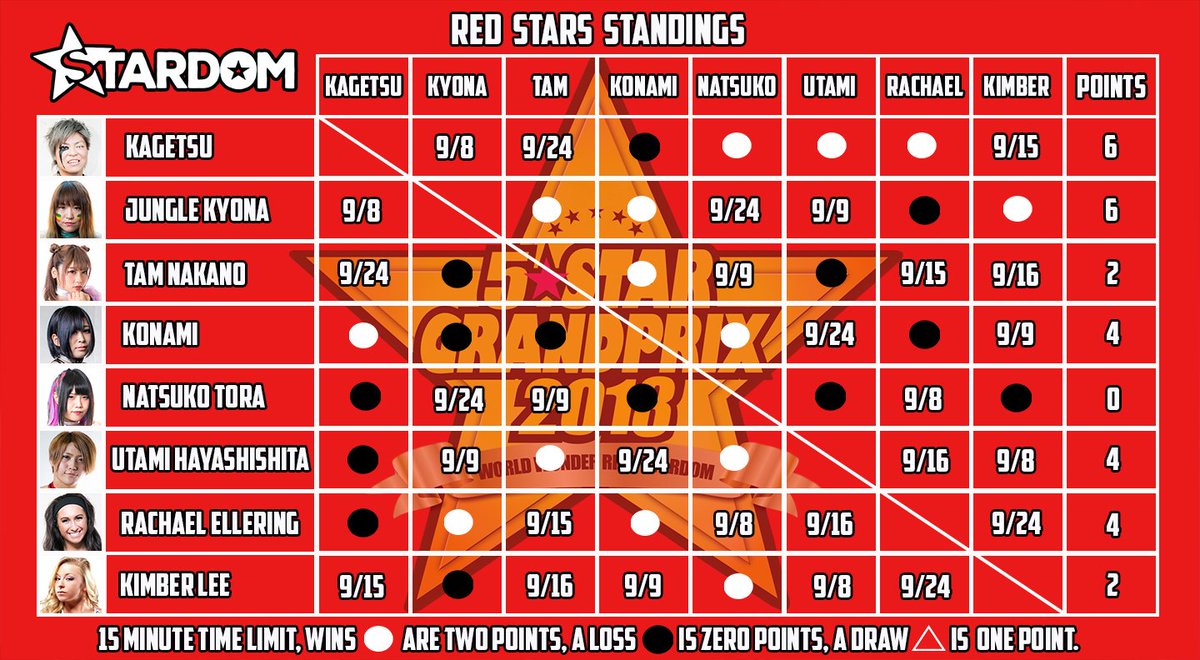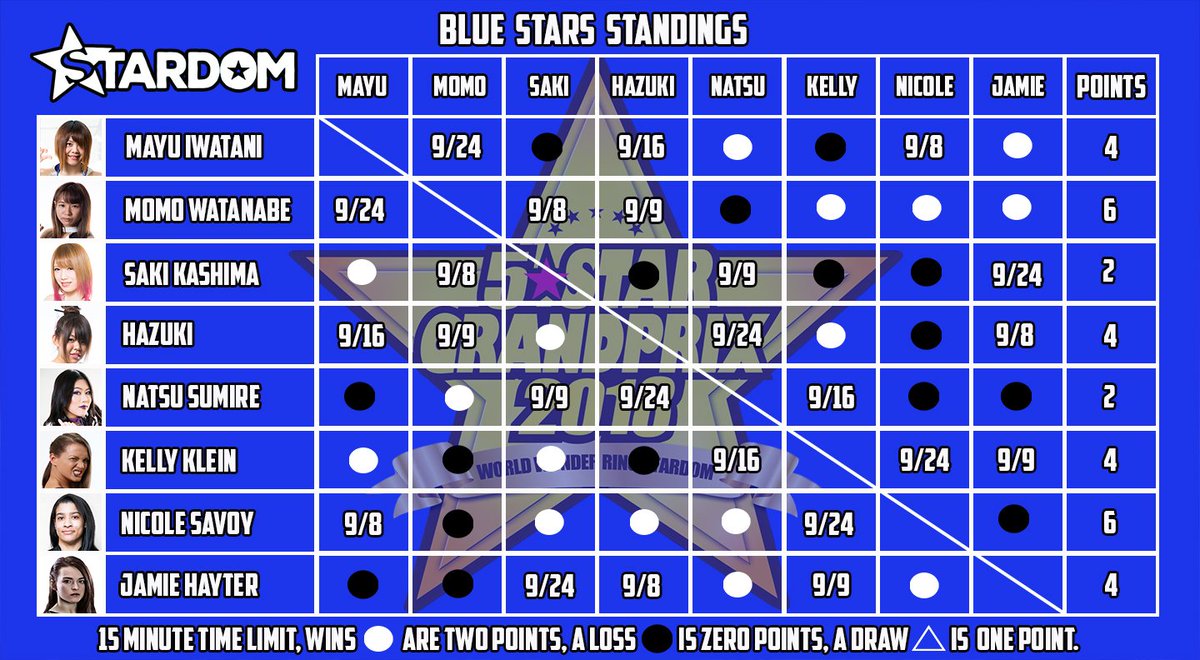 Luke Hickey
@PuroReviews