Added by Luke Hickey
May 6th, 2019 sees Dragon Gate return to Nagoya, Aichi, at the Aichi Prefectural Gym for Dead or Alive 2019. Aichi has hosted the Dead or Alive show since its beginnings back in 2008. It is usually known for its steel cage match, usually with a Luchas de Apuestas in play, hair v mask, some cases a title has been involved, such as YAMATO and his Dream Gate defence in 2017. This year things will be different.
Genki Horiguchi, Punch Tominaga, "brother" YASSHI, Mondai Ryu vs. Jason Lee, Yuki Yoshioka, Dragon Dia, Keisuke Okuda
I'd expect this to be a lively opener, one of the Natural Vibes trio will likely be getting the win here in my opinion but I wouldn't be surprised to see Jason Lee, a full time roster member since February, or Keisuke Okuda, who since departing DDT has made Dragon Gate his home since May.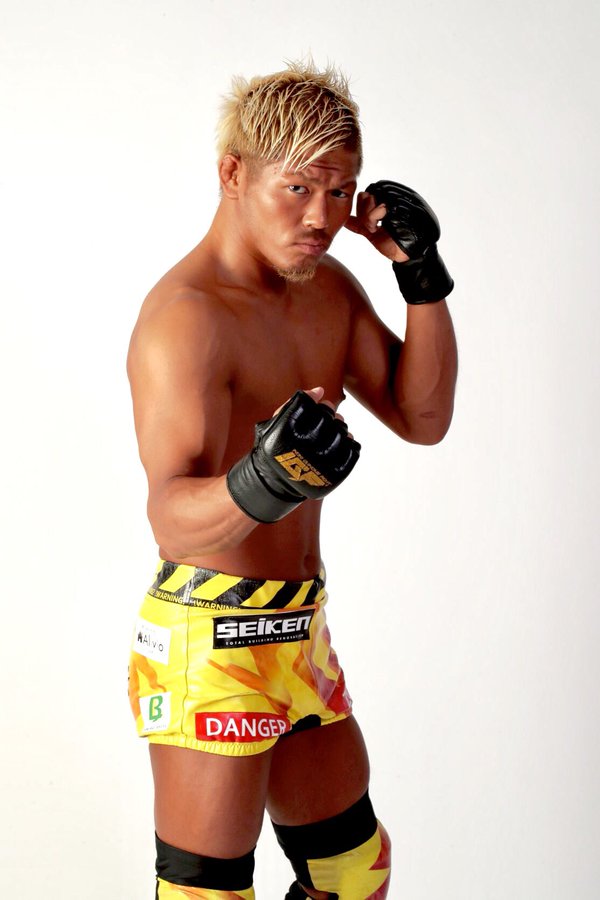 Ryo Saito, K-ness. vs. "Hollywood" Stalker Ichikawa, Shachihoko Boy
If you're familiar with Dragon Gate, I don't need to tell you what will happen here but Stalker will lose and this will be a fairly, classic, comedic encounter.
Masato Yoshino, Kaito Ishida vs. Eita, Ben-K
This will be an interesting dynamic considering the friction in both the MaxiMuM and R.E.D units since the beginning of the build towards Dead or Alive, Doi wants Kid out of MMM and Eita thinks Big R is a joke, unfortunately for Eita, he got pinned by Big R during the decision match. More recently though, Eita hit Ben-K with a chair which allowing YAMATO & KAI to win the Open the Twin Gate titles. I would favour Yoshino and Ishida here as they are more cohesive than their opponents.
Strong Machine J, Strong Machine F, Strong Machine G vs. Kagetora, Yosuke♡Santa Maria, KAI
As far as I am aware, Strong Machines have yet to lose following their debut back at the April Korakuen Hall show, I imagine their dominance will continue here.

Open the Brave Gate Championship Match: Susumu Yokosuka vs. U-T
The first of three title matches sees veteran Susumu Yokosuka, who was a Toryumon graduate, defending against Trueborn, U-T, who looks to win a title by defeating his senior and winning his first singles title. U-T for me is someone that they need to pull the trigger on this year, whether its now or later, but it needs to happen.
Open the Triangle Gate Championship Match: Yasushi Kanda, Takashi Yoshida, Kazma Sakamoto vs. Masaaki Mochizuki, Hyo Watanabe, Kota Minoura
The R.E.D infighting has seeped into the current Open the Triangle Gate Champions, as Yoshida is firmly Team Shimizu while Kanda and Kazma are Team Eita. This'll be Hyo Watanabe and Kota Minoura's highest profile match but their teaming with the vastly experienced Mochizuki.

Open the Dream Gate Championship Match: PAC vs. Dragon Kid
PAC asked for this match on Twitter, which Dragon Kid duly accepted. The two have history together as former Open the Twin Gate champions as Junction Three but this is a very different PAC that has returned to Dragon Gate. This will be the second time that Dragon Kid has challenged for the Dream Gate, the only title he has never won in Dragon Gate, the last time back in 2006 against Susumu Yokosuka.
Steel Cage Survival 5 Way Match
Kzy (Natural Vibes) vs. YAMATO (Tribe Vanguard) vs. Shun Skywalker (Dojo Mochizuki) vs. Naruki Doi (MaxiMuM) vs. Big R Shimizu (R・E・D)
This year the cage match is all about units, and the first time its main evented over an Open the Dream Gate title match. If you grab the flag and escape, you can choose to kick out a member from your group, the same stipulation exists for the loser. The unit landscape of Dragon Gate could suffer a massive shake up as we head into King Of Gate.
This will be broadcast live on the Dragon Gate Network at 7am Ireland & UK Time.
Luke Hickey
@PuroReviews