Added by Luke Hickey
There will be results from today's Dragon Gate 'Gate of Origin', some results from Noah's 'Global Junior League' as well as the standings for Stardom's 5 Star Grand Prix. So if you don't wish to have results spoiled avoid reading the end which will begin at the end of the Takeda piece. For the purpose of the Masashi Takeda piece, I will discuss the Nick Gage Invitational 3 but I won't disclose the winner.
2018 has being a great year for Japanese wrestling, New Japan is making inroads into America and Europe, people are once again passionate about Noah, most of the companies have streaming services of some sort, All Japan, Stardom, Big Japan, Dragon Gate, DDT, and if they don't, there is a dedicated network of people who provide content to follow these. But if you had told in 2016 and before, that people on Twitter would be raving about a Deathmatch I would of thought I was dreaming. But in June of this year, that happened.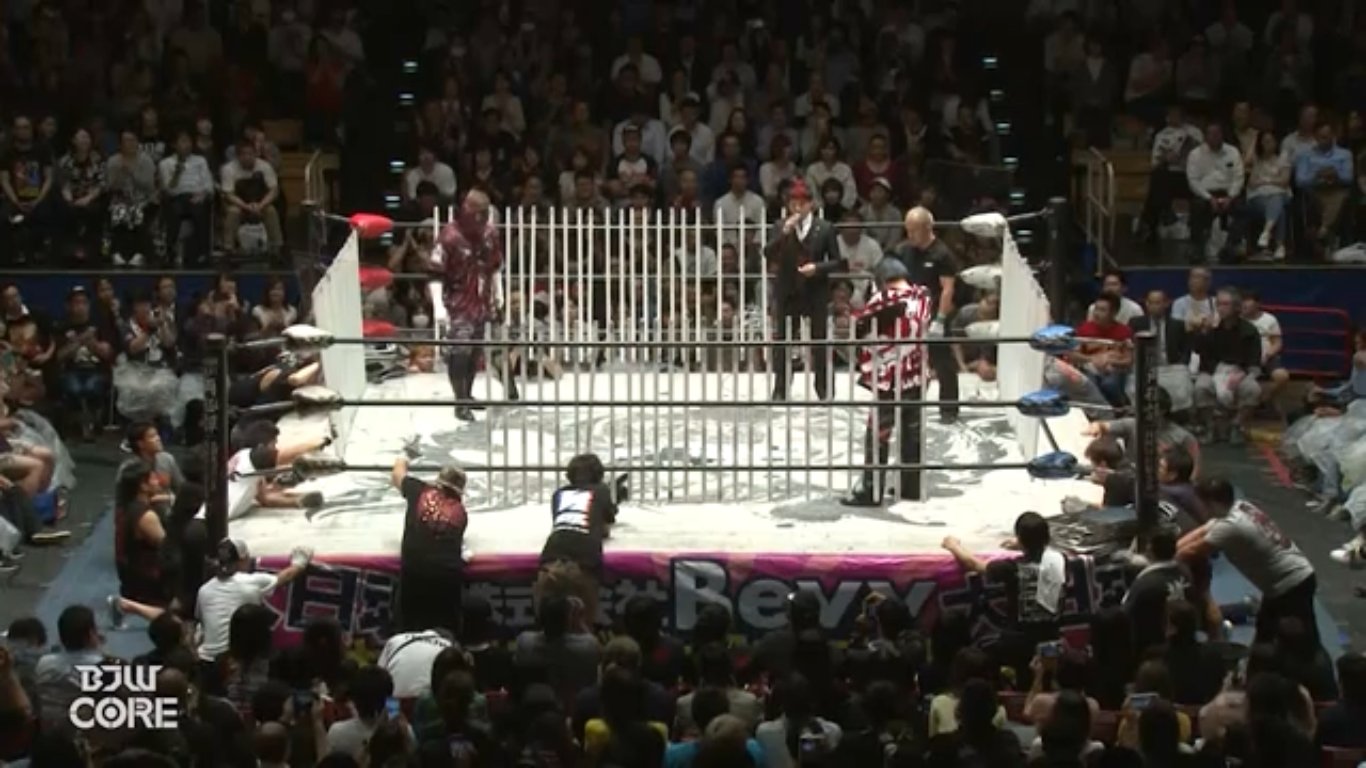 Isami Kodaka challenged Masashi Takeda for his BJW Death Match Heavyweight Championship in Korakuen Hall and it drew one of Big Japan's best attendances in the building this year, 1,690 people packed in to see these two battle it out for one of Death Match wrestling's most coveted titles. They met in a Light Tubes, Giga Ladder & Glass Board Death Match and they brought the Korakuen crowd into a story that ebbed and flow as these two men spilled their blood for the belt, as the noise of the people reverberated around the Hall, Takeda managed to vanquish Kodaka to bring the match to it's climax.
But this was no ordinary Death Match that people stopped talking about or never acknowledged, this was in people's MOTY contender lists! People who hadn't watched this style before wanted to watch it. It got eyes on Big Japan but it also got eyes on FREEDOMS. Takeda had won FREEDOMS main title a month previous to this battle with Kodaka, becoming a dual champion in the process, defeating Violento Jack for the KFC World Championship.
This in itself is also special, holding the two most prestigious titles in Death Match wrestling simultaneously is legendary and begs the question, are we in a new era of Death Match wrestling? The only man to ever hold both was Takashi Sasaki, but his reigns weren't simultaneous. The likes of Abdullah Kobayashi, Jaki Numazawa, Jun Kasai, Kenji Fukimoto and Ryuji Ito, but how much longer does this generation have left in it? Jun Kasai had his 20th Anniversary match in another Death Match classic, as he challenged Takeda for the KFC title in the Korakuen, where 1,654 packed in to see the student, Takeda defeat his mentor, Kasai.
This calendar year, Takeda has beaten Kobayashi in defence of his BJW Death Match Heavyweight, he has beaten Kasai in defence of his KFC World Championship, he issued a challenge to Ito to face him for the BJW Death Match title in September, if he retains, he'll have beaten 3 legends of the Japanese Death Match scene from an older era.
Yesterday, in America, he made it the final's of NGI:3, where one of his final opponents was Nick Gage in a multi man elimination match to decide the winner.
Regardless of whether or not he has won the NGI, surely we are living in the Death Match era of Masashi Takeda, the Eternal Deathmatch Champion!
RESULTS/SPOILERS! to follow:
This Week In Puro;
~ Dragon Gate held 'The Gate of Origin' today in Sendai and it was the first under the name, all titles were defended today and Sendai Girl's duo Cassandra Miyagi and Meiko Satomura appeared on the card. Ben-K joined Antias on the 06/09 Korakuen show. The noteworthy results are ANTIAS (Ben-K, Big R Shimizu, Shingo Takagi & Yasushi Kanda) defeat MaxiMuM (Dragon Kid, Jason Lee, Kaito Ishida & Naruki Doi), Open The Triangle Gate Title, Natural Vibes (Genki Horiguchi, Kzy & Susumu Yokosuka) (c) defeat Tribe Vanguard (Kagetora, U-T & Yosuke Santa Maria), Open The Brave Gate, Eita (c) defeats Punch Tominaga, Open The Twin Gate, Tribe Vanguard (YAMATO & BxB Hulk) (c) defeat Ryo Saito & Don Fuji and finally Open The Dream Gate, Masato Yoshino (c) defeats Takashi Yoshida.
~ All Japan's Oodou tournament will be starting on the 15th, live on AJPWTV.
~ Hirata has joined Ueno, Owashi and HARASHIMA in Disaster Box in DDT. Kasai made his first appearance since signing a contract of sorts and Mad Paulie, Soma Takao and Tetsuya Endo have won the KO-D 6 Man titles after it was vacated since Takeshita and Katsumata were injured. Sanshiro Takagi has joined Michael Nakazawa & Tomomitsu Matsunaga.
~ Noah's Global Junior League is underway with YO-HEY, Ikuto Hidaka and Daisuke Harada winning their respective Block matches yesterday, today saw Saito & Marufuji defend the GHC Tag Team Championship successfully against Kenoh & Kaito Kiyomiya following a Deathblade on Kenoh.
~Stardom's 5 Star Grand Prix is as follows: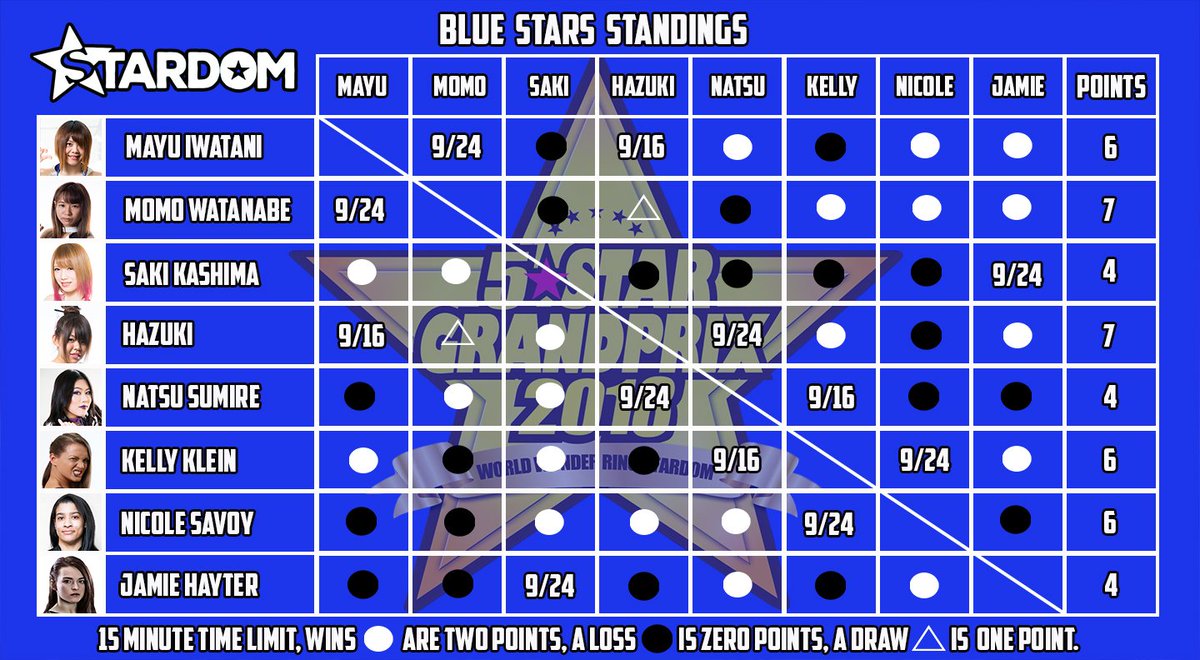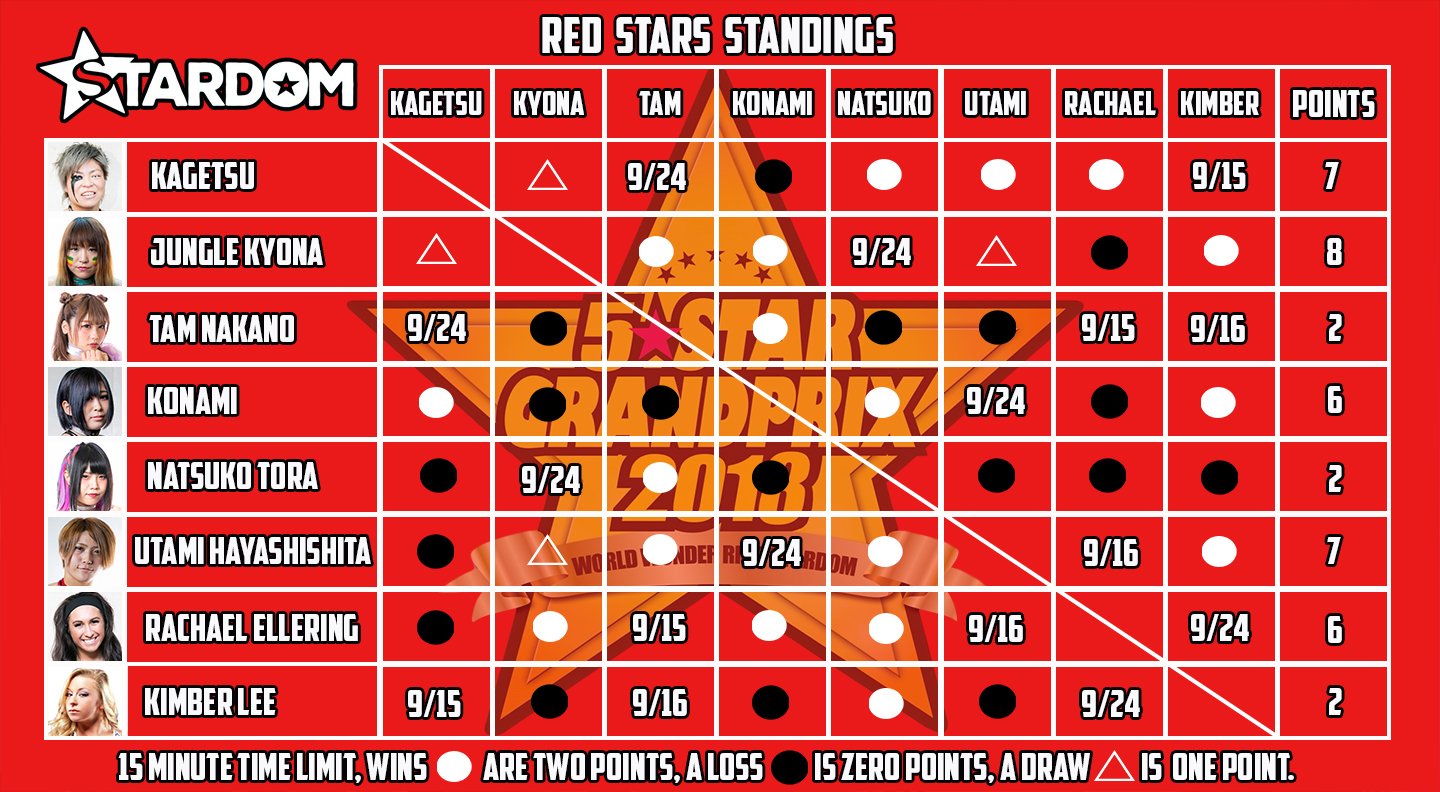 Luke Hickey
@PuroReviews